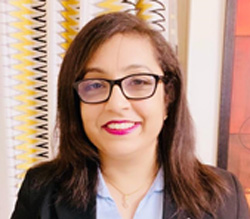 Aarti Ahuja is a renowned trainer, dedicated worker and a passionate mentor with a commitment to help students realize their potential. She has around 18 years of varied industry and teaching experience
Aarti holds MBA in Operations Management and B.Tech in Food Technology. She has published a paper "The Magic of Tea – Processed Food Industry" (U.S 2000) & "Infant Foods" (US 2009).
She started her career with Cremica Agro Food Pvt. Ltd. as Quality Manager.  She has done many major R&D Projects with McDonalds 'and implemented HACCP during that tenure.
She also helped in setting up couple of fast food restaurant chains – Mark PI (a US Chinese Fast Food Chain) and Taka Tak (Biryani and Rolls joint).
In the last decade she has focused in the field of imparting education and has been sharing her knowledge and experience with the students at Presidency College of Hotel Management to help them carve out a niche for themselves. Aarti has taught subjects such as HACCP, Entrepreneur Development, Sales and marketing, Human Resources, Supervision, Hospitality Today, Food Safety and Nutrition, Resort and Convention Management, Environmental Waste Management at the college level and is a sought-after specialist by the industry in these areas.
As a freelance trainer, she works with Talent ease organization to train young adults. To add to her social responsibility, she is also working as senior trainer with an NGO called Enfold which is working against CSA.