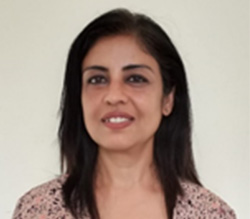 Urmila Mitra is a psychologist by education (Bombay University), an Image consultant by certification (ICBI), a soft skill trainer by passion (IITD) & a learner by interest, having over 10 years of experience in the Learning & Development industry. She firmly believes that a well groomed persona coupled with superior soft skills is definitely a winning combination. Over the last decade, Urmila has serviced some esteemed clients like ITC Infotech, ITC Hotels, SAP Labs, Capgemini, Sandisk, SL Kirloskar, Nous Infosystems, Times of India, Titan, Arvind Lifestyle Brands, Shoppers Stop, Motherhood Hospitals & more.
Passionate about travel, Urmila gave wings to her dreams, having started her career up in the blue skies, 35000 ft. above ground, inside aluminium tubes & jet-setting to over 100 countries, as flight purser with Cathay Pacific airways, gathering valuable insights across the world.
Urmila is a visiting faculty in Presidency college of Hotel Management where she grooms & nurtures the students in 'Image Management Skills' and 'Campus Grooming' to enable them to fit into the Hospitality world.